Report Maps Road for North Canterbury Industry's Transition to Renewable Energy
14th November 2023
The North Canterbury Regional Energy Transition Accelerator (RETA) report, published earlier this month by the Energy Efficiency Conservation Authority (EECA), outlines recommendations to help North Canterbury's manufacturing sector use less energy and move off fossil fuels, future proofing the region and setting up industry for a low-carbon economy.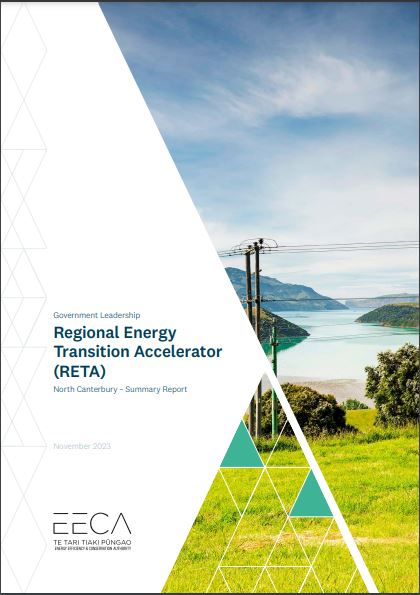 The report has had significant input from ChristchurchNZ and Enterprise North Canterbury, MainPower, Orion, Transpower, local biomass suppliers and forest owners, electricity generators and retailers, and medium to large industrial energy users.
The insights in the report centre on how the region, which covers Christchurch and the northern part of the Canterbury region, can work collectively – across both the demand side and the supply side of the energy ecosystem, to de-risk investment in greener energy choices, like biomass and electricity.
"In order to make good decisions, businesses need access to the information that impacts them, especially about the combined impact of decisions made individually across the region," said EECA Group Manager Business, Nicki Sutherland. "We need to invest now in infrastructure that meets future regional demands because this need will be upon us sooner than we think.
"Increasingly we're seeing that businesses who move away from fossil fuels are able to open up new supply chains, reduce long term energy costs and create a safer, more efficient working environment for their staff. These clean energy projects often also support the NZ manufacturing sector and create local jobs. So, it is fantastic to see businesses in North Canterbury who still rely on fossil fuels considering how they can bring forward their move to renewable forms of energy."
The RETA report builds on the lessons learned from energy efficiency and fuel switching work already underway in the region such as within the meat sector, with producers like Silver Fern Farms, AFFCO and ANZCO all at various stages of decarbonising their operations through fuel-switching and energy efficiency projects. It outlines how fuel switching decisions collectively impact investment needed in North Canterbury's resource and infrastructure systems, and the downstream effects of energy supply and generation.
The report highlights the role local forests and biomass will play as a renewable fuel in the future as a complement to electricity. Local biomass suppliers and foresters can expect to see increased demand for wood residues as the region transitions – with up to 38% of the region's energy needs potentially being met by biomass.
Sutherland said there will be several important co-benefits for the region as well as reducing the impact of industry on the climate. But local businesses and the wider region will benefit most if they act now. "Benefits will be unique to each business. For example, we're seeing that commitment to emissions reduction can help a lot of businesses meet rapidly shifting customer and supply chain expectations around reducing climate impact," said Sutherland.
"Moving to a low-emissions environment will help future proof the region's export brands and contribute to a resilient grid – easing demand on new generation."
ChristchurchNZ General Manager of Innovation and Business Growth, Martin Cudd said RETA is a fantastic opportunity for businesses in the region to reduce emissions through industry collaboration.
"Our innovation and business growth team are already connecting business to the EECA team, and RETA enhances our ability to share knowledge to support the uptake of renewable energy," said Cudd. "A collective commitment and transparent communications are key to enable the benefits to take shape and make impact."
Enterprise North Canterbury Chief Executive Heather Warwick said the economic development agency is also working with businesses, public sector organisations and councils to develop a localised and coordinated approach to regional decarbonisation.
"We have vineyards and farms already leading this space. Our vision is for our region to lower its carbon footprint," said Warwick. "Collectively we are stronger and can achieve better emission reduction outcomes."
Canterbury lines company Orion's General Manager Growth and Development Nic Wong said the RETA report has provided valuable further insights to work with their customers planning to electrify.
"It enables us to better support their energy transition journey and gives us a clearer view of the impact of decarbonisation on our commercial and industrial customers, and the role the Orion network has to play," said Wong.
Canterbury businesses can already see the value in collaborating with government and other partners around the transition to renewable energy. Meadow Mushrooms Sustainability Manager Darren Patterson said working with EECA, Orion and Meridian Energy to switch a process heat boiler from diesel to electricity has achieved both environment and financial savings.
"We have developed and adopted a carbon reduction pathway that has 2030 and 2050 science aligned targets. Without the ability to transition our main energy use from diesel to electricity, these targets would be unattainable," said Patterson.
"It means we can produce mushrooms that are better value for our customers and the planet."
View the full RETA report here.